Monday - Saturday: 8am – 8pm | Sunday 8:30am – 6pm
Services
Pitkin's ACE® Hardware stores in Northern Virginia offers home and business services to include key duplication, computerized paint matching, lock re-keying, glass and screen repair, tool sharpening, mailing, propane tank exchange, water bottle exchange, free recycling, delivery services, equipment rental, Stihl power equipment sales and service, and much more.
---
Customer Service Center
Store Guide - Dale City (1), Woodbine (2), Locust Grove (3)
Computerized Paint Custom Color Matching: (1, 2, 3) Every can is guaranteed 100% satisfaction at the best price possible. With our Paint Matching technology we can match ANYTHING, even from other manufacturers. Don't know how much paint you'll need for a project? Talk to our paint employees for free estimates.
Screen Repair (1, 2, 3 )
We cut Single Pane Glass, Picture Frame Glass and Plexiglass (1, 2, 3)
Lock Re-Keying (1, 2, 3)
Key Duplication (1, 2, 3) - including electronic key chips
Stihl Power Equipment (1, 2) (Gold Level Repair Service) ( 3 – Coming Soon)
Tool Sharpening (2, 3)
Special Orders (1, 2, 3)
Stamps - Full Service US Postal Office (2)
Mailing Packages - Full Service US Postal Office (2)
Buy in Bulk and Save.
Delivery & Assembly Service (1, 2, 3)
U-Haul Rental Service (3)
ACE Gift Cards: (1, 2, 3) Up to $100 - Purchase at Dale City and Woodbine stores or On-line
Propane LP Exchange (1, 2, 3)
Propane Fill Station (3)
Water Bottle Exchange Program (1, 2) - 3 and 5 gallon containers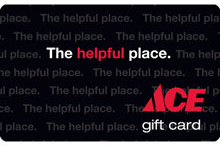 ---
Find Highly Experienced Ace Handyman Service, Click Here.
Exceptional Quality Guaranteed: We are so confident about the exceptional quality of products that we guarantee your satisfaction. All ACE® Brand products carry our Satisfaction Guarantee. This "no hassle return policy" is just one more way we're making a name for ourselves.
---